Tried & true - tips & tricks to kick off a smooth trip.....keep scrolling...
Prepare Your Trip
Be Prepared for your Trip
Below are some hyperlinks, downloadable files and general information to help prepare you for your trip North (or East, West or maybe even South!). Please take the time to review the sections carefully to facilitate a smooth vacation! Additional information and downloads can be found in our "FAQ" section.
If you can't find what you are looking for, please "contact us"
Arrival Time
Check in time is 3PM. This allows staff & management time to clean, rest and work on maintenance projects prior to your arrival. We appreciate your understanding.
Buy your license & outdoors card AHEAD of time……
We cannot stress enough – KaBeeLo Lodge does not and can not issue fishing/hunting licenses. These must be purchased PRIOR to arrival at our Main Base. All non-Canadian residents, 18 years of age or older, need an Outdoors Card to fish in Ontario. The sportfishing licence tag (one year, three year or 8 day) or the conservation fishing licence tag (one year, three year or 8 day) accompanies the plastic Outdoors Card. Please NOTE: there are no exemptions to these rules for non-residents 65 years of age or older. Please be sure to review the "Ontario's Ministry of Natural Resoucres" web page for more detailed fishing information
We recommend purchasing online – please visit: "www.huntandfishontario.com"
Licenses and outdoor cards can also be purchased at any number of Ontario sporting shops, including three (3) locations in Ear Falls: The Pit Stop, 4-Seasons or Smitty's (now Coulson's corner)
Hunting only:
Don't forget that a current/expired license is needed in order to purchase an Ontario hunt license.
Required Firearms declaration form RCMP 5589/CAFC 909 can be found at "www.rcmp-grc.gc.ca".
Helpful Hints
We encourage you to download or print our "Helpful Hints" check list to keep your packing on track.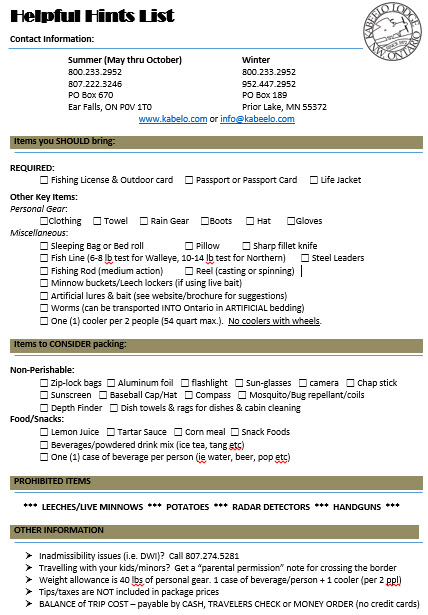 Food
As a compliment to KaBeeLo's fabulous fishing, all our standard fly-out packages include food. Please click here for an example of provisions supplied,
Traveling with minors?
For dependents under the age of 18, accompanied by only 1 parent (or neither parent), we strongly recommend completing a consent form before crossing the border. While it is not mandatory, we would rather our guests be prepared just in case you are greeted by an overly inquisitive border agent. Feel free to download a template "consent form"
Additional information about traveling to Canada with minors can be found on the Government website.
Loads & Load Limits
Floatplane load limit is 40 pounds per person. This will include your personal gear, your fishing gear, and sleeping bag. In addition to this, each person can bring one life preserver jacket and case of beverage of their choice. For every two persons you are allowed one cooler (no wheels). Please keep these weight restrictions in mind since any gear beyond this weight limit will be left behind or you will have to pay for the extra flight.