Thank You for (finally) offering year-round KaBeeLo shopping!
Support
The 2020 pandemic has impacted so many of us in so many different ways! Throughout it all, we are thankful for our health, families, friends & guests.
The US/Canada border restrictions forced KaBeeLo to remain closed for the 2020 season and most of the 2021 season. Our summer months included many hours lobbying with Government and seeking financial support for the Tourism Industry – albeit with minimal success We have worked diligently to cut spending costs & defer projects, losing 100% revenue and managing fixed overhead costs (plane maintenance, insurance etc) has certainly brought about its challenges.
Nevertheless, the Lohn family & staff remain dedicated and committed to the survival of KaBeeLo Lodge. Many of you have asked for ways to help - listed below are some new, & some old, options to consider...
Online Store
Didn't get to the Lodge? Or maybe you need to replace a well worn retro Lodge garment?
Checkout our spiritwear store offering exclusive KaBeeLo apparel, inlcuding a limited edition KaBeeLo 2020 cap!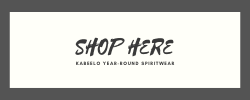 Gift Certificates
KaBeeLo Gift Certificates are available year round in any dollar amount. Call or email to arrange purchase & delivery.