Tried & true - tips & tricks to kick off a smooth trip.....keep scrolling...
Prepare Your Trip
ARRIVECAN APP * optional effective October 2022 *
ARRIVAL TIME/CHECK-IN
3 PM check-in at the Main Base. This later check-in allows staff & management time to clean, rest and work on maintenance projects prior to your arrival. We appreciate your understanding and abiding by the 3 PM check-in time. There will be a tiered charge for earlier arrivals.
FISHING LICENSE & REGULATIONS
KaBeeLo does NOT issue licenses.
LICENSE: A fishing license and outdoors card is required. The outdoors card is valid for 3 years. Both must be purchased online: www.huntandfishontario.com
REGULATIONS: Ontario publishes an annual guide to the rules and regulations for recreational fishing in Ontario. It contains information about recreational fishing licences, open seasons and catch limits, as well as up-to-date fishing regulations for each fishing zone
LIVE BAIT
NO BAIT CAN BE BROUGHT INTO CANADA. Only synthetic lures are allowed
SAMPLE OF PROVIDED FOOD
Below is a sampling of the food & quantities provided for fishing trips.
Something missing? Guests are encouraged to fill in the gaps with foods brought from home or picked up along the way.
Want more of something? Let us know and we will try out best to accommodate
FOODS NOT ALLOWED INTO CANADA
These restrictions vary with world events/outbreaks. Please be sure to check the site for any current restrictions if you plan to bring food in from the States.
WHAT TO PACK
We encourage you to download or print our "helpful hints" checklist to keep your packing on track.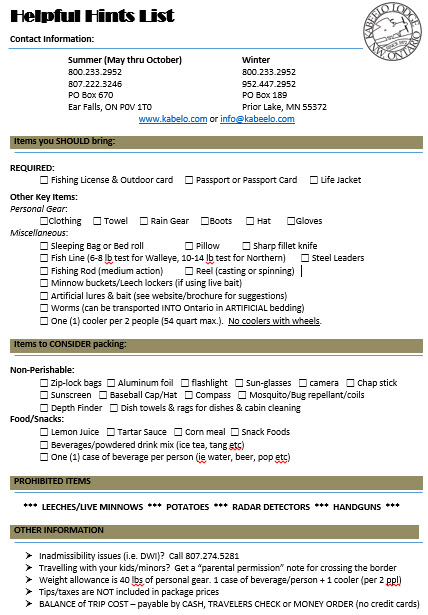 TRAVELLING WITH MINORS
For dependants under the age of 18, accompanied by only 1 parent/legal guardian (or neither parent/guardian), we strongly recommend completing a consent form before crossing the border.
While it is not mandatory, we would rather our guests be prepared in case they are greeted by an overly inquisitive border agent. You can download a template: minor consent form
BORDER WAIT TIMES & IMPORT INFORMATION
Use this link to gauge your border wait times to enter Canada:
www.cbsa-asfc.gc.ca/bwt-taf/menu-eng.html
Travel limits/restrictions: https://travel.gc.ca/
LOADS & LIMITS
FloatThe floatplane limit is 40 pounds per person - this includes your personal gear, fishing gear, sleeping bag, and life preserver/jacket. In ADDITION to this 40lb limit, each person can bring (1) case of a beverage of their choice.
For every 2 people, you can add (1) cooler without wheels (our pilots will thank you).
Please keep these weight limits in mind since any gear beyond this weight limit will be left behind and you may be charged for an extra flight.